To download an Old Fashion Gospel Hour  file for your computer or to burn a DVD follow the steps below:
1. Remember the exact name of the preacher ie. "Eld Chris Jones"
2. Go to: https://vimeo.com/oldfashiongospelhour/videos
3. If the person is not on the page you are viewing, type the name of the preacher
In the search area in the upper right of the screen.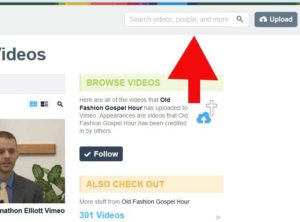 4. Search and chose the program that you wish to download.
5. Below the video of the program is a "download" icon. Click on it.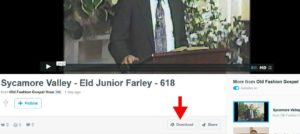 6. You should get a choice of file quality/sizes to download as follows: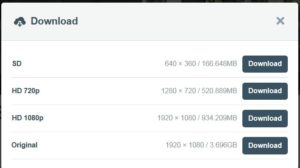 7. Chose the file quality/size you wish to download based on your internet speed.  Try a low quality/small file size ie. "SD" first to see how long it takes to download.  If the download time is not too long for you, try a larger file size until you reach the quality/size/time acceptable to you.
Thank you for downloading the program
The Old Fashion Gospel Hour